Datio for Restaurant (Base Station, Kitchen Printer, Swiper)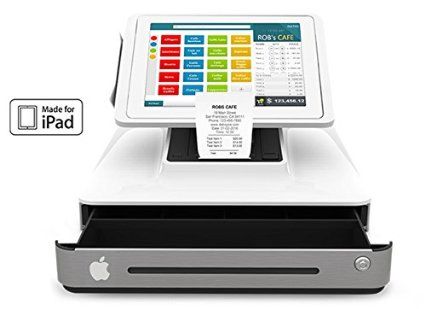 Datio for Restaurant (Base Station, Kitchen Printer, Swiper)
Product Overview:
Base Station Features:
Base Station includes Cash Drawer, Receipt Printer, Credit Card Reader and Barcode Scanner.

Only a single power cable is needed to power the system.

The iPad flips towards your customer to capture on-screen signature for credit cards. 

Subscription required for Software, Updates, Support and Waranty $49 per month. 

No long term contract required.

iPad NOT INCLUDED. Download Datio Point of Sale software from Apple's App Store to try for free before buying.
Datio Credit Card Payments by Vantiv only, or use for CASH Only and track Credit Sales using Terminal Credit. Base Station only works with Datio POS Software.

Base Station warrantied for 3 years with subscription we will airship a replacement.

Contact us at www.DatioPOS.com or 408-643-0990 (Call or Text).
Network Printer Features:
This is a network printer designed to be used with the Datio POS software and Datio Point of Sale Base Station and Cash Register for iPad. Each purchase includes an internal power supply, LAN Cable and power cable, mounting kits, and receipt paper. The printer comes with a small test roll of paper to get you started. Contact us at www.datiopos.com or text or call us at 408-643-0990 for more information.

Works with Datio POS software only

For remote kitchen printing only

3 inch thermal paper

Printer is with auto cutter






Pay At Table Credit Card Reader:
Datio Point of Sale Credit Card Reader is a slim profile card reader that can be attached to an iPad and used with Datio POS software to accept credit cards. The Datio Reader is portable so it can be used at checkout stations, kiosks, or carried for line busting or roaming sales. Our software is best in class supporting cafes, delis, order at the counter restaurants and all types of retail shops. Reader is for iPads with 8 pin lightning connector including iPad 4, Air, Air 2 and 9.7"/13" Pro or iPad Mini, iPad not included. 

Product Dimensions: 

5.1 x 3.9 x 1.9 inches
Product Description:
The Datio Cash Register is ideal for your salon, quick serve restaurant or retail store. 
We also support full service restaurant with pay at table and saved orders. 
The Datio Cash Register is an elegant, easy to set up, reliable and affordable solution. Point of sale is changing, and the iPad provides an extremely reliable and durable solution. The Datio Cash Register ONLY works with the Datio POS software available from the Apple App Store from your iPad. You can use our solution for cash only or Apply for credit card processing with our partner Vantiv Payments. Contact us to apply. You can also run the credit card on your existing credit card terminal and manually enter the amount after ringing up the sale on the Datio Cash Register. You can go to the Apple App Store and search "Datio POS" to download the try the App for free before purchasing the Datio POS Cash Register. There are no complicated cable connections to make and no messy cables on your counter where you are interacting with your customers. Our software supports inventory tracking, reporting from any PC or phone via 
manage.datiopos.com
, sales associate tracking, item modifiers and options, discounts and many other great features. Visit our website at 
www.DatioPOS.com
 for more information.


Product Information:
Works with iPad models 

iPad Air and iPad Air 2, iPad Pro 9.7"

Product Dimensions :

16 x 13.5 x 12 inches

Item Weight: 

13 pounds


Shipping Weight: 

18.7 pounds


Important Information:
Seller Warranty Description
3 Years
Customer Reviews: